A video is one of the easiest, most effective ways to engage customers online. When done right, it communicates important information lightning fast in a way that is both visually stimulating and memorable.
Also, when done right, it boosts traffic to your website and converts sales.
Hold on, though. Before you don your director's beret and whip out your phone to start your amateur filmmaking career, there are some things you need to understand about how videos can boost your website traffic.
Much like when you optimize the written content on your website and social media accounts to rank high in search engine results pages (SERP), you must make sure that your videos have great SEO. Then, they, too, will rank high in search results for high traffic online platforms such as Google and YouTube.
What Is Video SEO Or VSEO?
We've talked about search engine optimization (SEO) at length in our other blog posts, but is it the same when we apply it to videos?
Not quite.
The fundamentals of VSEO are the same as regular SEO. You want your content to rank high on SERPs, so you use certain tried and true strategies such as keywords to achieve that ranking.
But the application of VSEO differs greatly from the norm. Obviously, video content is visual rather than text based. That means digital marketers have to be creative and look for ways to include keywords, CTAs, links to other videos in our library, etc. within the video as well as its description and even the title. These strategies are essential because they help improve shareability, seed backlinks, and boost traffic to our website.
What Are The Benefits Of VSEO For Businesses?
Video SEO services offer several potential benefits for businesses.
1. Attracts A Huge Chunk Of The Digital Market
When you post video content with good SEO, you immediately tap into a huge chunk of the global digital market.
Not only are videos the most popular type of online content among millennials and Gen Z-ers, but they are also the preferred tool of choice among digital marketers. According to Outbrain, 87 percent of digital marketers use video content.
Furthermore, in a 2021 State of Marketing Report published by HubSpot, Litmus, and Wistia, it was found that video content is the most used digital marketing strategy. The statistics don't lie. Videos appeal to huge swaths of internet users, and with the right VSEO strategies you can cash in on their popularity.
2. Grows Customer Engagement With Your Brand
Does digital video help engagement? The answer is emphatically a yes! A video with great SEO will automatically boost customer engagement with your brand. Statistics show that video content on social media incur 1200 percent more shares than text and image-based content combined.
Plus, online users love videos! In fact, as of 2020, 86 percent of people wanted to see more video content from the brands they love.
Viewers who like your video will share it with their friends and family, watch your other videos, and click through to your website to peruse the rest of your content.
VSEO is the engagement gift that keeps on giving.
3. Converts Sales And Increases ROI
The power of video SEO to convert sales and increase return on investment (ROI) should not be underestimated. As far back as 2018, Wyzowl reported that 88 percent of people said that they were convinced to buy a product or service after watching the brand's video.
Videos don't just provide entertainment or information. They persuade. Remember that videos are a digital marketing strategy: their job is to market your brand, your product, your service, even if all they're doing is communicating useful facts or tutorials.
4.      Improves Your Brand's Uniqueness And Recognizability
The quality and uniqueness of your video content speaks to the quality and uniqueness of your brand. They also make your brand more recognizable.
Consider Apple when they create marketing videos and release them to promote their new products. You can always distinguish an Apple commercial from all the other tech-related brands. They have developed a certain style that matches the fresh, modern aesthetic of their products.
Making your brand distinctive from any other is what a video powered by smart VSEO can do for your business.
Top 5 Video SEO Strategies
Before we dig into the top 5 video SEO strategies, there's a step you need to complete first.
Define Your Video SEO Goals
This step is all-important. Defining your video SEO goals will inform how you should proceed with your video marketing campaign: how much your budget should be and what type of content you want to produce.
Below are some examples of VSEO goals you may want to consider:
Increasing Brand Awareness
Increasing brand awareness is a worthy goal, especially for a new business just starting out. For this one, you may want to produce videos that are entertaining or astonishing to get more views and shares.
Backlinks are created when other sites share a link directly to your content. There are many backlink building tools that will help you easily to achieve this goal. This is a great way to improve traffic to your site as well as boost your SERP ranking. To increase your chance of building backlinks, make sure your videos offer content that is unique and different from what other brands are putting out, beside using the correct backlink building tools.
Improving your content's SERP ranking is another good reason to create video content. The higher you show up in search engine results, the more likely online users will be to click on your content. Here, you'll want to use the VSEO strategies listed below to optimize your keyword placement and improve your video's E-A-T status.
Increasing sales is always top priority for business owners and entrepreneurs. Informative videos or product reviews can go a long way to converting sales and boosting revenue.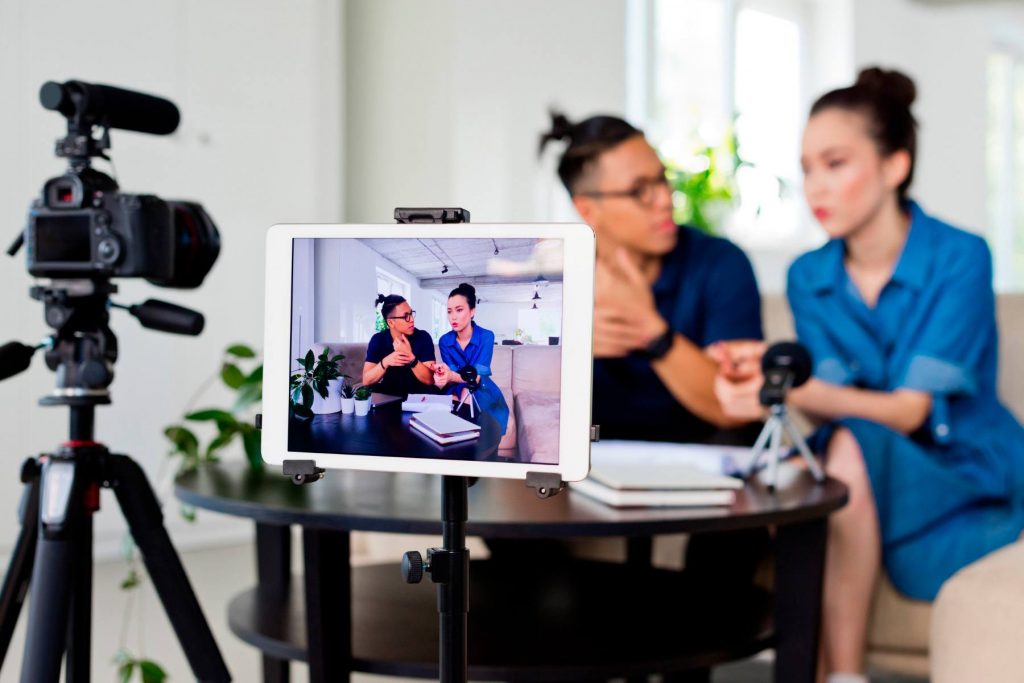 After you define your goals, use these top 5 video SEO or VSEO strategies to help you meet them.
1. Rich Snippets
Our first VSEO strategy is one that Google recently rolled out. It's a new SERP feature called rich snippets.
A snippet is information about a webpage that shows up on SERPs along with the link to the webpage. Its purpose? To give search users more information about that webpage and help them decide if they want to visit it or not.
In other words, rich snippets improve users' search experiences and help them find what they're searching for faster.
How do rich snippets work as a video SEO strategy? They tell the viewer information about the video, such as a title, short description, upload date, and thumbnail image. These components are disguised opportunities to entice a search user to click on your webpage and view your video. In the process, you get more traffic to your website.
To set up rich snippets, first you need to self-host your video and embed it onto your website. Once this is done, you need to tell Google about your video. You accomplish this by adding a Schema.org code to your webpage where the video is embedded. Finally, you must submit an XML sitemap to Google's Search Console.
2. Landing Page Embed
Embedding a video on your landing page pays off big in terms of video SEO. According to Visually, a video published on the landing page of a website can increase conversions by 80 percent – or more.
It makes sense: if you put a high quality, informative, visually appealing video on your landing page, you immediately show potential customers who you are and what your product or service is. They don't have to navigate to your About page or anywhere else to see what you're all about. You'll hook 'em right from the drop!
And the faster you engage visitors to your site, the more likely they are to stick around and convert to customers.
3. Titles
The title for your video should be short, punchy, and descriptive all at the same time. It should be around 70 characters long and contain keywords that 1) are relevant to the content of the video, and 2) match search terms your viewers are likely to enter in the search bar.
Some easy ways to spice up the title are to add eye-catching words like "top" and "best," numbers, and powerful words like "surprising" or "essential" or "shocking." You can also rephrase your title in the form of a question (that's how a lot of people phrase their search terms when they're looking for tutorials or other useful information).
4. Video Description
To optimize your video description for VSEO, include primary as well as secondary keywords in the first couple of lines (as many as you can without it sounding unnatural). Get right to the point and describe what the video offers to the viewer. Then, direct the viewer to other videos you've made, links to your website and social media accounts, affiliated links, etc. These will drive up your overall online visitor traffic.
5. Transcript
Uploading the transcript of your video to the description or comments section is a great VSEO strategy. It gives Google more text to crawl for keywords (which, of course, help you rank higher in SERPs), and it also allows viewers with hearing impairments to enjoy your video.
Visualize Your Video SEO Or VSEO Success
In summary, we've learned that optimizing your video content for SEO is just as important as optimizing your blog posts, web content, and social media posts.
However, we also learned that video SEO is not quite the same as the type you may be familiar with. Digital marketers use a variety of unique strategies, such as rich snippets and video embedding, to drive up and grow video traffic specifically.
Video SEO services, as with any other type of search engine optimization, may seem complex to the untrained digital marketer. Fortunately, our video SEO experts are on hand and ready to help you develop a successful VSEO-powered video campaign that will improve traffic to your website, grow your customer base, and increase your sales. Contact us today to get started.