As the COVID-19 continues to impact numerous industries across the globe, the recruitment and talent acquisition practices face new challenges. For many organizations, the plan to hire more employees is on halt or entirely out of the question. Alternatively, for some firms, there is more need for personnel than ever.
The recruitment rates prior to the pandemic hit an all-time high at the end of 2019. However, due to a surge in remote workplace environments, companies now will have to dive into new ventures. It is more than just to ensure future growth but take into consideration the safety of the employees.
It is safe to assume that the coronavirus is not going to disappear anytime soon. Therefore, organizations need to realize the gravity of the situation and enter a new era of recruitment and talent acquisition. It means redefining traditional recruitment parameters to pave the way for future staff.
Recruitment Marketing Acts to Support Talent Acquisition
The recruitment marketing of a company works as a foundation that supports its talent acquisition efforts. Technically, recruitment marketing refers to communicating and building towards an organization's staff value proposition and employer brand to hire the most talented people.
Companies view recruitment as a short-term initiation to hire individuals to fill a position that is available within an organization. Conversely, talent acquisition comes when a firm realizes the need to hire someone before a situation arises.
Even in the age of pandemic, the basic principles of recruitment marketing still revolve around candidate engagement and candidate experience. However, companies will have to learn to use recruitment marketing as a strategic tool to communicate and collaborate with the teams.
How COVID-19 is Affecting the Recruitment and Talent Acquisition Practices
Currently, there is a chaotic displacement of workplace environments around the globe. However, the displacement of traditional workspaces is due to various situations. Recruiters now have to grapple with an increased hiring rate. Again, it depends on the needs of the company to hire more or less.
Whether it's healthcare facilities, digital marketers, logistic experts, contact centers, or data scientists, there is an unprecedented increase in hiring more staff than ever. And that's because better recruitment leads to solutions. However, the drive to high recruitment should not compromise safety.
Recruitment and acquisition practices are changing quickly, as companies adapt to changing times. Ordinarily, HR experts need sufficient time to evaluate a strategic move before implementation. Consequently, many companies have to face hiring freeze, which means a slow application process to hire new applicants.
It is undeniable that the recruitment and acquisition funnel is no longer the same since the pandemic. Nonetheless, companies are quickly tackling HR issues, recruiting talented individuals remotely, and moving in the right direction. The answer lies in the recruitment funnel's alignment as the fast-paced changes take place in the remote work environments.
Coronavirus: The Top Recruitment Challenges, Trends, and Considerations
Today, industries are taking new suitable measures to counteract the challenges throughout the recruitment process. Human resource management, however, will have to indulge in a multitude of considerations to resolve the problems effectively.
Onboarding Process
A complicated onboarding process can make the joining process difficult. In fact, these individuals are caught in-between new jobs and layoffs. Although the current state of the mass layoffs is due to economic recessions around the world, recruiters were far from prepared to deal with the coronavirus crisis. Often, it is because of the limited resources that make onboarding of new remote employees harder. How you onboard a new employee and what you use as onboarding material will shape their experience for the first few weeks and months of being on the job at your company. The availability of online material would make the process simpler and far more engaging for new employees. Consider delivering messages through video–it has the capability to show new employees complex, dynamic content about your organization while offering a consistent experience and minimal impact on company productivity.
Hiring in Bulk
Right now, there is an increase in the demand for labor among e-Commerce platforms, business applications, remote meetings, online learning, supermarkets, health workers, and retailers. In fact, there is a more than 35% increase in labor demand for healthcare-related services. Although it may make sense for giants such as Walmart or Amazon retailers to hire more laborers in bulk, it is not a viable approach for small-and-medium-sized businesses.
Decreased Application Rate
Priorities are no longer the same for businesses and people alike. However, it is not just the scarcity of jobs, but the fear stemming from the current situation is real for the employees. As the current global economic order restructures, HR faces new challenges throughout the job shifts that lead to tough decision-making.
It is far to focus on the retention of the current employees. However, completely overlooking active new talent is becoming a hurdle for companies. Despite reduced application rates, recruiters will have to broaden the horizon and look for individuals who can fill in the jobs that would become available in the near future.
Excessive Cost-Cutting
When it comes to talent acquisition activities, excessive cost-cutting often leads to more problems than solutions. Besides, manual recruiting can waste plenty of budget on prospective new applicants. Ideally, the allocation of budget for recruitment marketing should be realistic even amidst a pandemic. Fewer resources mean more delays, which could also tarnish the image of the company. Although leadership recruitment tactics are on hold, businesses realize new challenges each day.
Screening Approach
When it comes to considerations, screening through traditional in-office settings is expensive and, most importantly, not safe. Therefore, video interviews could serve the same purpose without and reduce budget constraints for the company.
Interestingly, it is a more open-ended approach to screen prospective candidates who might be the "perfect" fit. However, there should be clear guidelines about the expectations of the company beforehand.
For instance, recruiters can simplify the virtual screening process through the integration of relevant forms and questionnaires. It would allow recruiters a more in-depth insight between highly skilled and average candidates.
Another consideration would be to introduce automated chatbots for the support of prospective candidates. Chatbots could be more than just assistance; automated chatbots could contain the information about the specific roles and responsibilities that a particular candidate will have to undertake in the organization.
Combine Talent Acquisition with Your Business Strategy
It takes a lot of time and effort to build a talent acquisition strategy. Interestingly, it makes more sense for companies to align the talent acquisition strategy with their key business strategy. That said, the talent acquisition strategy should not be generic. In fact, there are no specific rules as to how HR should form a talent acquisition strategy.
The best course of action would be to have a progressive and adaptable approach that would allow companies to customize certain aspects of the strategy. In short, talent and business strategy should be realistic enough for HR departments to follow. HR can evaluate and analyze the needs of the business through integrated technology.
The strategy to recruit, collaborate, and engage comes with more virtual advantages. HR can run the time, cost, and quality metrics to evaluate the talent acquisition strategy's process and effectiveness. The design of an excellent acquisition strategy should be flexible enough for a company to evolve.
Strategies to Recruit and Retain Talent Amidst COVID-19
Before your organizations decide to hire prospective individuals mindlessly, take into account the following key ingredients to attain, and most importantly, retain the new talent during the pandemic:
The Power of Human Touch
If you want the new talent to fit into your organization naturally, it has to be an open platform for employees to communicate their concerns or grievances. One of the reasons recruiters manage to retain employees is by allowing them the freedom to speak up. Conflict, after all, not always negative. It could lead to more ideas and garner respect for talented employees.
Focus on Skills that Matter
Even a marginal gap in the skills can impact your goals. Therefore, make sure to hire the individuals that possess the skills you need in the first place. It means recruiters need to identify the most valuable skills that would serve the objectives of the company.
Positive Company Culture
Talented individuals prefer to work for a company that harbors progressive in-person and virtual culture. In fact, you can expect higher work quality and productivity through positive reinforcement of company culture. It is one of the reasons major brands make cultural relevance pivotal to the company's success. A positive culture inherently becomes a source of inspiration for people to work.
Can Recruitment Adapt to a Pandemic Situation?
To get familiar with the current state of recruitment, a consistent routine might play the most important role in adaptability. For the sake of better flexibility, however, HR must create a realistic schedule for new staff.
The underlying purpose is to help these individuals get to know the company's team members and management. It might be what the company needs to restore and navigate the normalized structure of traditional recruitment.
Besides, it is vital to understand that adapting to new changes will be a continuous process for most companies. Therefore, there should be encouragement from the HR experts to new staff members to not see new changes as obstacles but opportunities.
Moreover, the post-hiring and transition period for new employees will become more crucial amidst coronavirus. If companies want to maintain the same standards as traditional workplaces in their remote environment, there will be collaborative efforts.
It means moving on Slack or other communication platforms for a better engagement ratio and keep an eye on productivity goals. And just like traditional work-setting, there should be ethical boundaries in a remote or virtual workplace environment.
Part of being adaptable is to encourage employees to thwart roadblocks rather than deploy pressure tactics to complete deadlines. Apart from ensuring your staff have all the resources they need, cultivate their current skills that would solve more crises in the foreseeable future.
COVID-19 and Transformative Recruitment Process
Contemporarily, organizations are working to transform the same company culture into a virtual environment. Although it depends on the type of industry an organization operates, an efficient recruitment process requires coordination between teammates and subordinates.
A new online recruitment process could still revolve around a traditional model with better engagement and creative efforts. In fact, the conscientious efforts of a company will resonate with social responsibility. As a result, you will be able to strengthen the recruitment process from the start.
Recruitment Process: Use Automation Tools
It couldn't be a more perfect time to begin investing in practical and cost-saving online recruitment tools. In fact, with constant new tech advancements, recruiters can simplify the process and align the company's needs and potential employees.
HR experts, after all, have the availability of a wide variety of market tech tools. And on top of that list should be recruitment automation tools that would ease a lot of burden for HR. Automation-based recruitment software can significantly bring down the total cost for each hire.
In addition, the recruitment automation tool can support the company in times of crisis. HR experts can use the recruitment automation software to automate their overall recruitment functions and get tailored assistance.
Recruiting and Talent Acquisition: A New Era
In the new age of hiring for an in-office position, the company will have to convey to the prospective employees the availability of a safe-distance work environment. Furthermore, recruiters will have to follow standard cleaning protocols set forth by the official health authorities.
Moreover, companies will have to improve the level of communication, minimize the risk of misunderstandings, and protect employees' well-being. The last thing a company would want is to offer faux assurances.
It means there has to be a certain degree of trust in the organization from supportive talent attraction, prospective employees, and continuous retention. It is a Mobius cycle that would help organizations retain strong applicants through a detailed recruitment process.
Consequently, these differentiating recruiting and talent acquisition practices will help companies stand out in the market. It will reflect the company's distinctiveness and openness to reward individuals who take risks when they face a customer or work in a traditional office-setting office.
The Need for More Talent Acquisition Solutions
So long as HR manages to transform traditional recruitment practices into the virtual realm, there will be more need for more effective talent acquisition solutions. In fact, several recruiters continue to increase their efforts to live up to the market's high employment demands.
Also, talent acquisition solutions should form positive expectations for hiring managers, recruiters, and candidates themselves. However, without technology, recruiters would not be able to adapt to virtual workplace environments.
Besides, companies have to embrace digital workstations. Therefore, the implementation of video interviewing and virtual onboarding solutions have become crucial for organizations. Apart from the overdependence on technology, recruiters will have to come up with a unique assessment for interviews and communications.
Just because it is a new normal does not mean online talent acquisition should be completely different. Naturally, there will be obstacles in the face of new technological advancements and hiring practices, but the trick is to eliminate the anxiety born out of online onboarding and interviews.
The New Normal: What Will Talent Acquisition Market Will Look Like After COVID-19?
Since the beginning of the coronavirus outbreak, companies' preconceived traditional workplace ideas are out of the window. In fact, the new normal to attain, hire, and retain new talent can be tumultuous for a company amidst constant market restrictions and lockdowns.
Although the traditional HR practices are no exception to the impact of COVID-19, the signs of economic recovery raise more new questions than answers. It means companies that are struggling to maintain operational activities have to embrace the brave new world in the post-coronavirus world.
The truth is that even when things do get to normal, there will always be fear to revert to traditional talent acquisition practices. Naturally, companies want to evolve and adapt to have a semblance of normalcy.
Optimistically, organizations may combine the traditional and newfound talent acquisition strategies to acquire the best talent from the market. However, companies should not jump to how post-COVID-19 market will exactly look like. Instead, the focus of attention should be to bridge the gap between talent management and the needs of the business.
Furthermore, the normalization will extend beyond the traditional needs of the company. In fact, new online recruiting and AI-oriented talent management solutions will become standard for companies' architectures.
Here's how talent acquisition market will further change post-COVID-19:
Processes of Online Talent Acquisition
Newer forms of talent acquisition procedures will become the standard. Whether its file uploads, resumes, use of artificial intelligence, profile assessment, or comparative analysis in real-time, each process would be normalized.
For instance, HR recruiters may utilize Machine Learning (ML) algorithms for optimization purposes. The goal would be to find the brightest and talented individuals, assess their performance, and minimize prejudices or biases to save the recruiters' time.
Furthermore, companies might soon build a particular talent hunt community to offer tools for getting the most qualified applicants for available positions. For instance, dashboard-based tracking and recruitment processes measure applicants' overall experiences and evaluate the positive or negative parameters that may or may not be the prerequisite performance company needs.
Simultaneously, there is a good chance of a collective approach that employees will be responsible for upholding the employer and corporate brand once the coronavirus ends.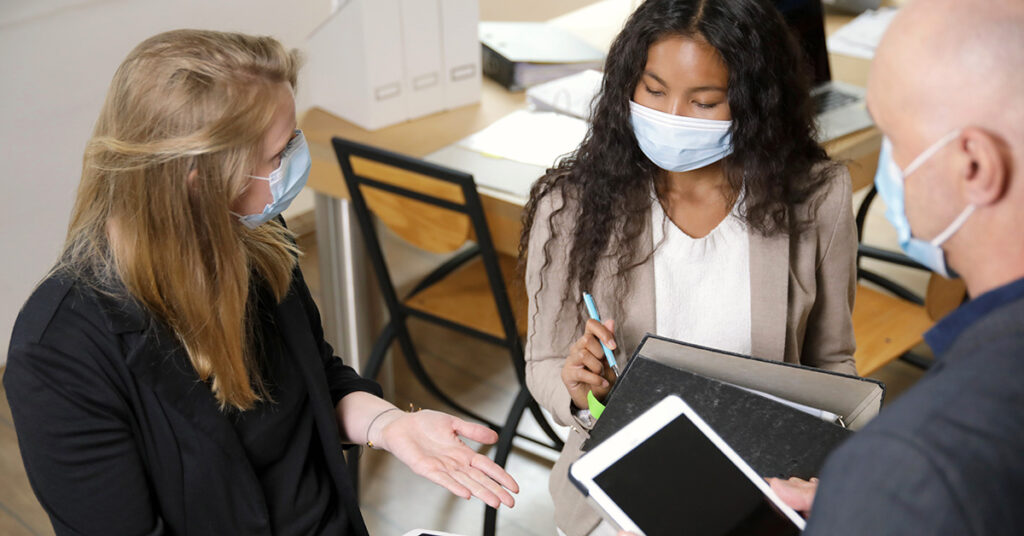 Proactive Planning for Workforce
Many companies already find it difficult to look for agile candidates from their established talent pool to gather new profiles. The talent acquisition market after coronavirus will encourage companies to utilize means and resources to boost employees' quality.
For example, an individual who might be with an organization in the same department may have to be realistic about job rotation. In essence, the push resources will get a replacement in the form of pull talent to eliminate inefficiencies even after COVID-19.
The demand for talent also would be relatively different. Companies would want to hire more multitaskers who can take care of multiple cross-departmental responsibilities. To remain proactive, HR experts will also have to engage with industry leaders and determine market expectations.
Establishing New Guidelines for Teams
Yes, a remote work environment will undoubtedly change the working style of the employees. And that is not necessarily a bad thing. It could render more productivity so long as the employees can adapt to a remote work environment, resolve challenges on the way, and show a willingness to participate.
However, organizations will have to empower employees to resolve conflicts and meet high expectations. For instance, companies could help employees adapt to new normal through the availability of new tech devices or cross-departmental training to state the prolonged or permanent nature of the remote work environment.
Hive Art Media: Your Next Trusted Digital Partner
When it comes to recruitment and talent acquisition, a transformative change does not occur overnight. It takes strategic effort, analytical tools, objective assessment, and professional guidance to attain and retain the best staff. With the emergence of new technological dynamics in the IT field, HR can implement new recruitment and talent acquisition standards to change the way companies hire individuals.
Hive Art Media can help you navigate the complicated challenges your company might be facing during the coronavirus pandemic. Our goal is to help you find digital HR solutions that cater to your needs. You deserve a strategic leader that provides sophisticated recruitment advertising and marketing solutions that would help you and your talent.
Conclusion
As the dangling threat of COVID-19 hangs over the companies, HR and Talent Acquisition departments need to adapt to altogether new marketing strategies. The winners would be those recruitment practices that flawlessly distribute the work without impeding productivity. Although there is a need for more personalization and visibility, the future talent market will revolve around mobilization of internal talent.
It means projects related to certain skilled positions would be assigned to more dynamic individuals with extensive knowledge and virtual communications abilities. It is no wonder HR strategists are already coming up with a wide array of new tactics that would profile prospective employees better to survive in the modern age of talent acquisition.
Follow us to find out more information.